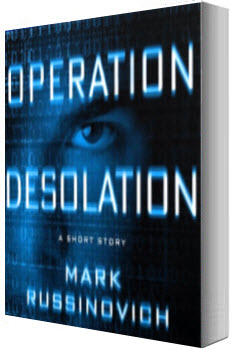 Operation Desolation: A Short Story
A thought-provoking new short story from the acclaimed author of Zero Day.
Challenging Anonymous is like waving a red flag in front of a bull. But the CEO of a major investment firm has done just that, and now cyber security expert Jeff Aiken has to try to protect the company from its leader's mistakes. The timing couldn't be worse, as Jeff is scheduled to appear at a conference that has invited an Anonymous representative as well. And Jeff's about to discover that the hacker outfit plans to bring their fight offline–and into the real world.
Available for only 99 cents at Amazon.com and other ebook sellers.
---
BUY THE SHORT STORY:
---
About Mark
Mark Russinovich works at Microsoft in the Microsoft Azure product team as Chief Technology Officer. Read more...
Upcoming Events
There are no upcoming events at this time.
Recent Press & News
Zero Day has been inducted into the Cybersecurity Canon
Zero Day is now part of the collection of books recognized as ones everyone interested in cybersecurity should read: The Cybersecurity Canon
Wall Street Journal on Rogue Code:
Now There's a Novel About High-Frequency Trading
Publisher's Weekly on Rogue Code:
"In Russinovich's well-crafted third Jeff Aiken novel (after 2012′s Trojan Horse), the cyber security specialist must contend with insider trading, long cons, and multimillion-dollar thefts"