Trojan Horse: A Novel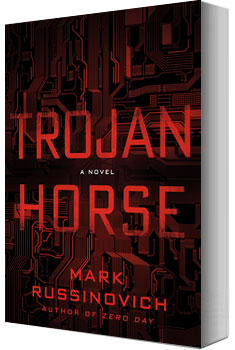 It's two years post-Zero Day, and former government analyst Jeff Aiken is reaping the rewards for crippling al-Qaida's attack on the computer infrastructure of the Western world. His cyber – security company is flourishing, and his relationship with Daryl Haugen intensifies when she becomes a part of his team.
But the West is under the East's greatest threat yet. The Stuxnet virus that successfully subverted Iran's nuclear defense program for years is being rapidly identified and defeated, and Stuxnet's creators are stressed to develop a successor. As Jeff and Daryl struggle to stay together, they're summoned to disarm the attack of a revolutionary, invisible trojan that alters data without leaving a trace. As the trojan penetrates Western intelligence, the terrifying truth about Iran is revealed, and Jeff and Daryl find themselves running a desperate race against time to reverse it – while the fate of both East and West hangs in the balance.
Like Zero Day, Trojan Horse is a thrilling suspense story, a sober warning from one of the world's leading experts on cyber-security, Microsoft Technical Fellow Mark Russinovich. Trojan Horse exposes the already widespread use of international cyber-espionage as a powerful and dangerous weapon, and the lengths to which one man will go to stop it.
Foreword by Kevin Mitnick, Speaker, Consultant, and author of the New York Times bestseller, "Ghost in the Wires"
---
BUY THE BOOK:
---
Praise for Trojan Horse
"Russinovich makes the technical lingo easy to understand as he successfully builds an exciting thriller"
—Publisher's Weekly
"Top-notch geek lit"
—Kirkus Reviews
"Thrills and strong characters add to the fun"
—Booklist
"Russinovich scares us all in this techno thriller that gets the details right!"
—Mikko Hypponen, Chief Research Officer, F-Secure Corporation
"Scarily plausible"
—Library Journal
"'Trojan Horse' blends malware and geopolitics in a taut thriller"
—Ed Bott, ZDNet
---
About Mark
Mark Russinovich works at Microsoft in the Microsoft Azure product team as Chief Technology Officer. Read more...
Upcoming Events
There are no upcoming events at this time.
Recent Press & News
Zero Day has been inducted into the Cybersecurity Canon
Zero Day is now part of the collection of books recognized as ones everyone interested in cybersecurity should read: The Cybersecurity Canon
Wall Street Journal on Rogue Code:
Now There's a Novel About High-Frequency Trading
Publisher's Weekly on Rogue Code:
"In Russinovich's well-crafted third Jeff Aiken novel (after 2012′s Trojan Horse), the cyber security specialist must contend with insider trading, long cons, and multimillion-dollar thefts"